Read. Play. Move. Create.
Mental wellness resources including recommended books for parents, self-regulation and relaxation activities for young people and children, helpful videos, and hopeful favourites.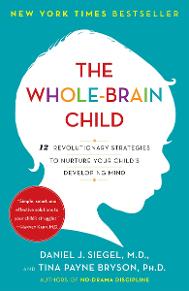 The Whole Brain Child
is co-written by neuropsychiatrist Daniel J. Siegel and parenting expert Tina Payne Bryson and offers insight into the new science of how a child's brain is wired and how it matures with 12 practical strategies for promoting healthy brain development.
Daniel J. Siegel, M.D., is currently clinical professor of psychiatry at the UCLA School of Medicine, founding co-director of UCLA's Mindful Awareness Research Center, and executive director of the Mindsight Institute.
Tina Payne Bryson, Ph.D., is a psychotherapist in Arcadia, California, where she sees children and adolescents, as well as provides parenting consultations. She serves as the Director of Parenting Education and Development for the Mindsight Institute, focusing on how to understand relationships in the context of the developing brain.
Born for Love
is co-written by Bruce Perry and Maia Szalavitz and explores empathy's startling importance in human evolution and its significance for our children and our society.
Bruce D. Perry, M.D., Ph.D. is the Senior Fellow of The ChildTrauma Academy, a not-for-profit organization based in Houston (www.ChildTrauma.org) and adjunct Professor in the Department of Psychiatry and Behavioral Sciences at Northwestern University School of Medicine in Chicago. Over the last thirty years, Dr. Perry has been an active teacher, clinician and researcher in children's mental health and the neurosciences holding a variety of academic positions.
Videos and links for parents
The Importance of Play Therapy
Featuring Dr. Eliana Gil
Association for Play Therapy
Published on Oct 6, 2017
This is a 30 second video clip.
What Is Play Therapy?*
Play therapy differs from regular play in that the therapist helps children to address and resolve their own problems.
Play therapy builds on the natural way that children learn about themselves and their relationships in the world around them (Axline, 1947; Carmichael, 2006; Landreth, 2002). Through play therapy, children learn to communicate with others, express feelings, modify behavior, develop problem-solving skills, and learn a variety of ways of relating to others. Play provides a safe psychological distance from their problems and allows expression of thoughts and feelings appropriate to their development.
How Does Play Therapy Work?*
Often, children have used up their own problem solving tools, and they misbehave, may act out at home, with friends, and at school (Landreth, 2002). Play therapy allows trained mental health practitioners who specialize in play therapy, to assess and understand children's play. Further, play therapy is utilized to help children cope with difficult emotions and find solutions to problems (Moustakas, 1997; Reddy, Files-Hall & Schaefer, 2005). Even the most troubling problems can be confronted in play therapy and lasting resolutions can be discovered, rehearsed, mastered and adapted into lifelong strategies (Russ, 2004).
*excerpts from the Association for Play Therapy website at www.a4pt.org
Born for Love: Why Empathy is Endangered — and Essential
Published on May 15, 2014
Dr. Bruce Perry, medical doctor, child psychiatrist and trauma researcher, explains how empathy is vital to all of our brain and physicaldevelopment at a conference hosted by the National Council for Behavioral Health.
"In everything he discusses, Bruce adamantly emphasizes that healing and recovery is possible, driving home the point that relationships are the agents of change and the most powerful therapy is human love"
"From birth, we seek intimate connections, bonds made possible by empathy — the ability to love and to share the feelings of others.
Learn how recent technological changes, child-rearing practices, education, and lifestyles affect a child's understanding of human contact and deep relationships, the foundation for empathy and a caring, healthy society. Take home practical ideas for combating the negative influences of modern life and fostering social change."
This is a 1 hour presentation.
Trauma, Brain & Relationship: Helping Children Heal
Published on Mar 12, 2013
Experts in the field of childhood brain development explain how trauma affects the development of the mind body system, and how it affects children's behaviors and social relationships. This video has been popular as a training video with agencies for training individuals working with children and families that have been impacted by trauma.
This is a 25 minute documentary featuring Bryan Post, Bruce Perry, M.D., Daniel Siegel M.D., Marti Glenn PhD and others.
Dr. Bruce D. Perry: The First Three Years
Published on Dec 11, 2014
Join renowned psychiatrist Bruce D. Perry, for this discussion of early-childhood brain development and its long-term importance. Learn about what goes on cognitively during the first three years of life, and what parents—and other adults—can do to further promote infant well-being and wellbeing across thelifespan.
This program is presented in partnership with the Dolores Kohl Education Foundation.
Helpful resources about addiction & substance use
A Cannabis Communication Guide for Youth Allies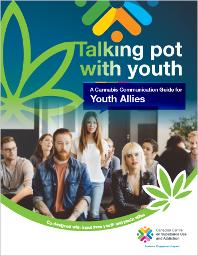 Publication date: 2018
Author: Canadian Centre on Substance Use and Addiction
A Cannabis Communication Guide for Youth Allies
Provides introductory information and a set of exercises to engage youth in meaningful discussions and conversations about cannabis. This guide takes a harm reduction approach to talking with youth about cannabis. Its purpose is to help those who work with young people to have the right kind of conversations with them about cannabis: conversations that are safe, unbiased, informed and non-judgmental. Anyone who is looking for practical approaches to talking with youth about cannabis can use this guide.
Self-regulation activities for children
Belly Breathe
Feeling like a monster? Colbie Caillat and Common recommend a calming breath.
"Sometimes the monster that's inside you
is a monster that is mad...
There's a way to calm your monster,
and chill your inner monster out...
Belly breathe,
going to breath right through it,
belly breathe, this is how you do it -
Put your hands on your tummy, now you're ready to begin -
Put your hands on your belly, and you slowly breathe in,
Let your belly go out and in and in and out,
and you'll start to calm down without a doubt"
Sesame Street: Me Want It (But Me Wait)
Cookie Monster spoofs Icona Pop's hit song "I Love It" in this hilarious new video! Cookie Monster, an example of someone needing to master self-regulation skills, attempts to explain these concepts while devising personal strategies on waiting to eat a cookie.
Sesame Street is a production of Sesame Workshop, a nonprofit educational organization. http://www.sesamestreet.org.
Brain-gym activities by Hearts at Play
Brain Buttons
Published by Gail Dennison
Take one had and stretch the thumb and index finger away from each other.

Place your index and thumb into the slight indentations below the collar bone on each side of the sternum. Press lightly in a pulsing manner.

At the same time put the other hand over the navel area of the stomach. Gently press on these points for about 2 minutes.
The Hook-Ups
Published by Gail Dennison
Stand or sit. Cross the right leg over the left at the ankles.
Take your right wrist and cross it over the left wrist and link up the fingers so that the right wrist is on top.

Bend the elbows out and gently turn the fingers in towards the body until they rest on the sternum (breast bone) in the center of the chest. Stay in this position.

Keep the ankles crossed and the wrists crossed and then breathe evenly in this position for a few minutes. You will be noticeably calmer after that time.
The Cross Crawl
Published by Gail Dennison
Stand or sit. Put the right hand across the body to the left knee as you raise it, and then do the same thing for the left hand on the right knee just as if you were marching.

Try doing this for about 2 minutes.
The Footflex
Published by Gail Dennison
Sit and bring the right ankle over the left knee.
With your right hand fingers find tight muscles and tendons on the back and inside of the calf, right by the knee. Once you find some give them squeeze in as much as is comfortable and hold.

With your left hand fingers find the achilles tendon close to the ankle and again squeeze and hold.

With the tendons being squeezed take a breath in. Slowly exhale for a count of eight as you flex your foot as far as is comfortable. Release. Repeat two more times on the right leg.

Switch legs and repeat three more times on the left leg.
This exercise and stretch improves posture, relaxation, and ability to socialize both in expression and response.
For more Brain-Gym activities by Hearts At Play, visit http://heartsatplay.com
More activities to help the body relax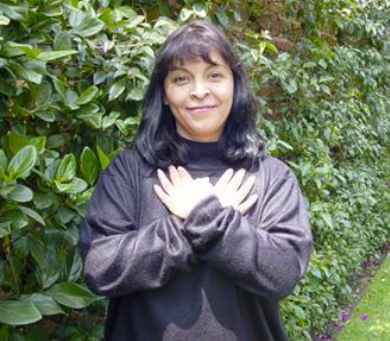 This is a strategy based on the principles of EMDR that uses bi-lateral stimulation to help the brain process anxiety and fear.
To do the Butterfly Hug, cross your arms across your chest with your right hand on the top of your left arm and your left hand on the right arm.

Alternate gently taping each hand one at a time at a rate that is comfortable. After doing this for a minute or so, take a deep breath. Do this a number of times until anxiety is reduced. After each deep breath, check in to access feelings and thoughts.
Lazy Eights are Brain Gym exercises that establish or strengthen neural connections in the brain in order to enhance a child's ability to process information and manage stress. Brain Gym offers many exercises to help both adults and children to learn better and to cope with stress.
Lazy Eights on my back: The eight figure lying on its side (thus, a lazy eight) - also recognised as the symbol for infinity - is traced on the child's back by the caregiver. The caregiver starts in the middle of the eight and moves upwards along the eight to the left around the child's shoulder blade, travels again to the middle, then up to the right around the child's right shoulder blade. This activity is helpful before bed as it is very relaxing or during the day if the child is anxious or stressed.
Lazy Eights can also be done by tracing the Lazy Eight in the air with the thumb of the left hand, and following the thumb with the eyes, and then repeating the same activity with the right hand, tracing the Lazy Eights with the right thumb in the air and following with the eyes. For younger children, it may be useful to begin by drawing the number 8 on a paper, and then holding the paper up (or taping it to a wall at the child's eye level) so that the child can trace the Lazy Eight with a finger on the paper, following with the eyes. Try this one out with both hands for 10 times in each direction around the Lazy Eight.
Favourite hope activities
Read the book "A Child's Garden - A Story of Hope" by Michael Foreman to your child.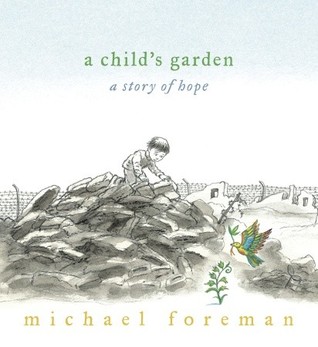 At the end of the book, ask what the child client liked and did not like about the book. This is an opportunity to discuss the idea of hope, drawing on the hope illustrated in the book and talk about what hope is. It is a chance to hear about your child's hopes and dreams for the future are and what gives them hope.
Using a clay pot, invite your child to create a hope plant similar to the boy's garden in the book. Your child can paint things or words that are hopeful or represent hope on the pot. While your child is painting, you can talk about planting a flower or seed (whatever is available). This is an opportunity to talk about nurturing hope, to talk about what the boy in the book did to help his hope garden grow and what the child can do to help their hope plant grow.
Reflections on Inspiring Hope in Children and Youth
published in APTA' TUDES, Alberta Play Therapy Association, Volume 24, Issue 2, Fall 2015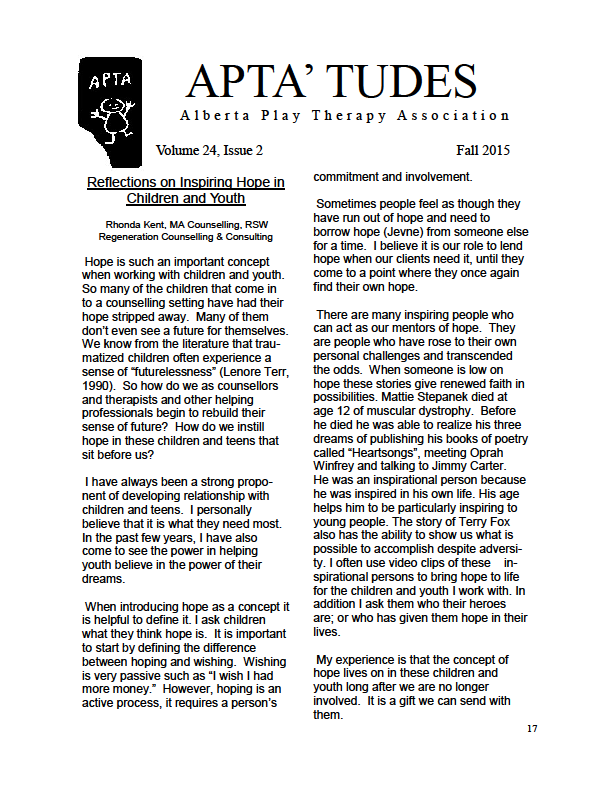 "When introducing hope as a concept it is helpful to define it. I ask children what they think hope is. It is important to start by defining the difference between hoping and wishing. Wishing is very passive such as "I wish I had more money." However, hoping is an active process, it requires a person's commitment and involvement.
Sometimes people feel as though they have run out of hope and need to borrow hope (Jevne) from someone else for a time. I believe it is our role to lend hope when our clients need it, until they come to a point where they once again find their own hope."
© Copyright Regeneration Counselling & Consulting